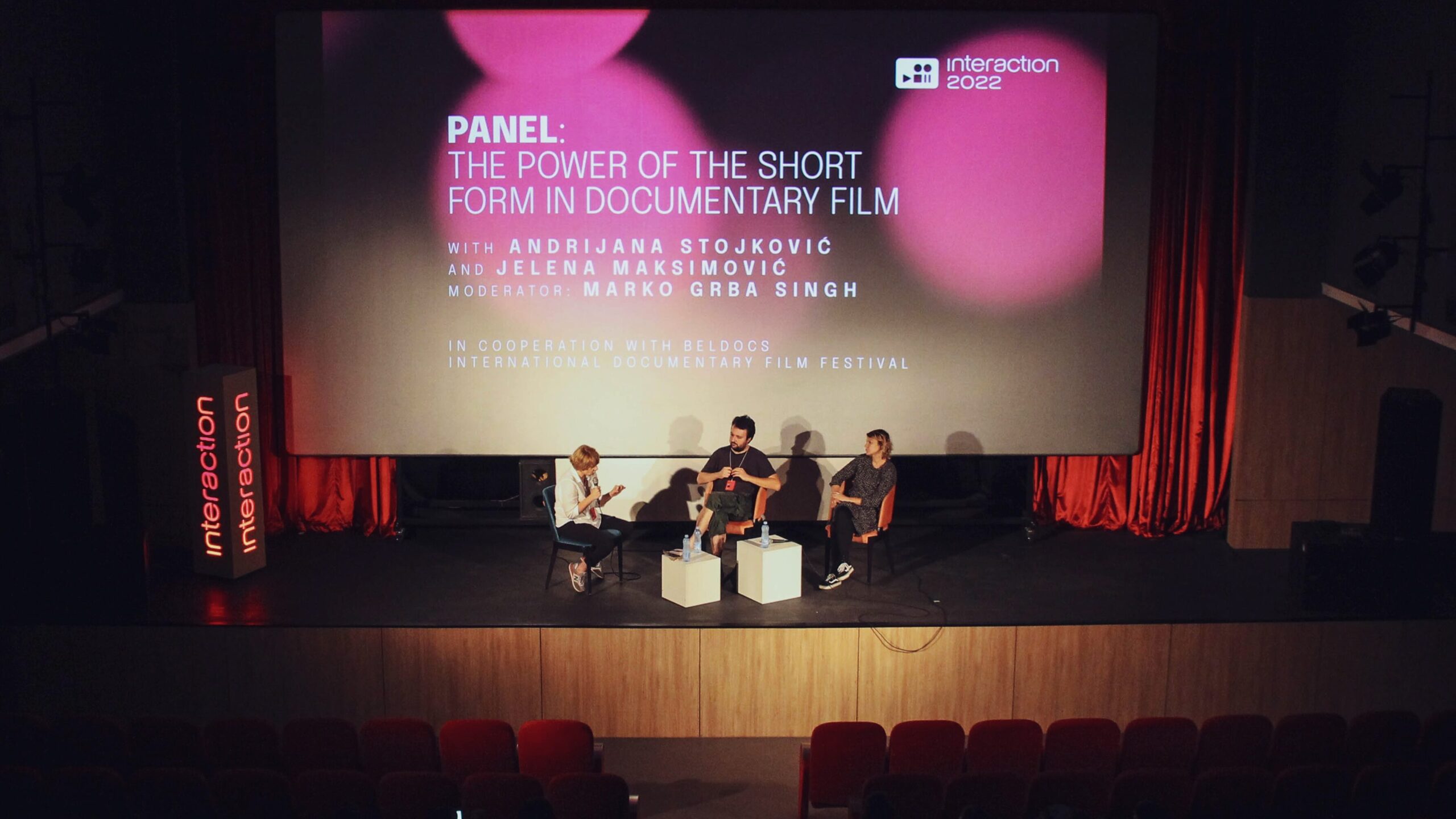 Meet2Talk
M2T – 2 panels – 5 Talks programmes – 20 film professionals from Austria, The Netherlands, Finland, Slovenia, Russia, Montenegro, Bosnia and Herzegovina, Croatia, North Macedonia and Serbia – presentations – Speed Meetings 
The accompanying programme, Meet2Talk (M2T), is intended for all participants of the Interaction programme, to connect them, enable them to establish new contacts and collaborative relationships, as well as to discover new views on documentary film through panel discussions and conversations.
Meet2Talk includes project presentations, panel discussions, talks with leading documentary professionals, and speed meetings, alongside diverse events organised for the purpose of facilitating the encounters.

The panels within the M2T programme, dedicated to youth and education, will be moderated by Petar Mitrić and Vladimir Perović. Within the first part of the panel entitled 'Documentary Film – Young People and Education', some festivals and organisations from the region will have an opportunity to present themselves: Underfill Podgorica, Prvi kadar Istočno Sarajevo, Winter Apricot Prilep, Kinoklub Karlovac, Atelier Varan and Cameo festival Čačak. In the second part of the panel, the following guests will participate in the discussion: Tea Lukač, director and member of board of directors of the DokSrbija Documentary Association, Ana Filipović, critic of the Filmoskopija portal, Nebojša Slijepčević, director and screenwriter, lecturer at ADU Zagreb, Sead Šabotić, director, selector of the Herceg Novi Film Festival and lecturer at FDU Cetinje and Dragan Nikolić, screenwriter, director, mentor and lecturer at the documentary film workshops of Atelier Varan.
Talks programmes include film screenings and discussions with film professionals from the country and abroad on various topics related to documentary film. Our moderators will talk with: Susanna Flock and Leonhard Müllner, representatives of the Total Refusal group from Austria, about hybrid forms in documentary film (18 August); Sandra Rančić and Igor Toholj, representatives of the Dok'n'Ritam Music and Documentary Film Festival about music documentaries (19 August); the director Georgy Molodtsov from Russia about VR in documentary film (20 August); the director and producer of the documentary "Mother's Milk" (Isaac Knights Washbourn and Nađa Lapčević) (21 August); and the Slovenian film director Urška Đukić, the author of the film "Granny's Sexual Life" (22 August).