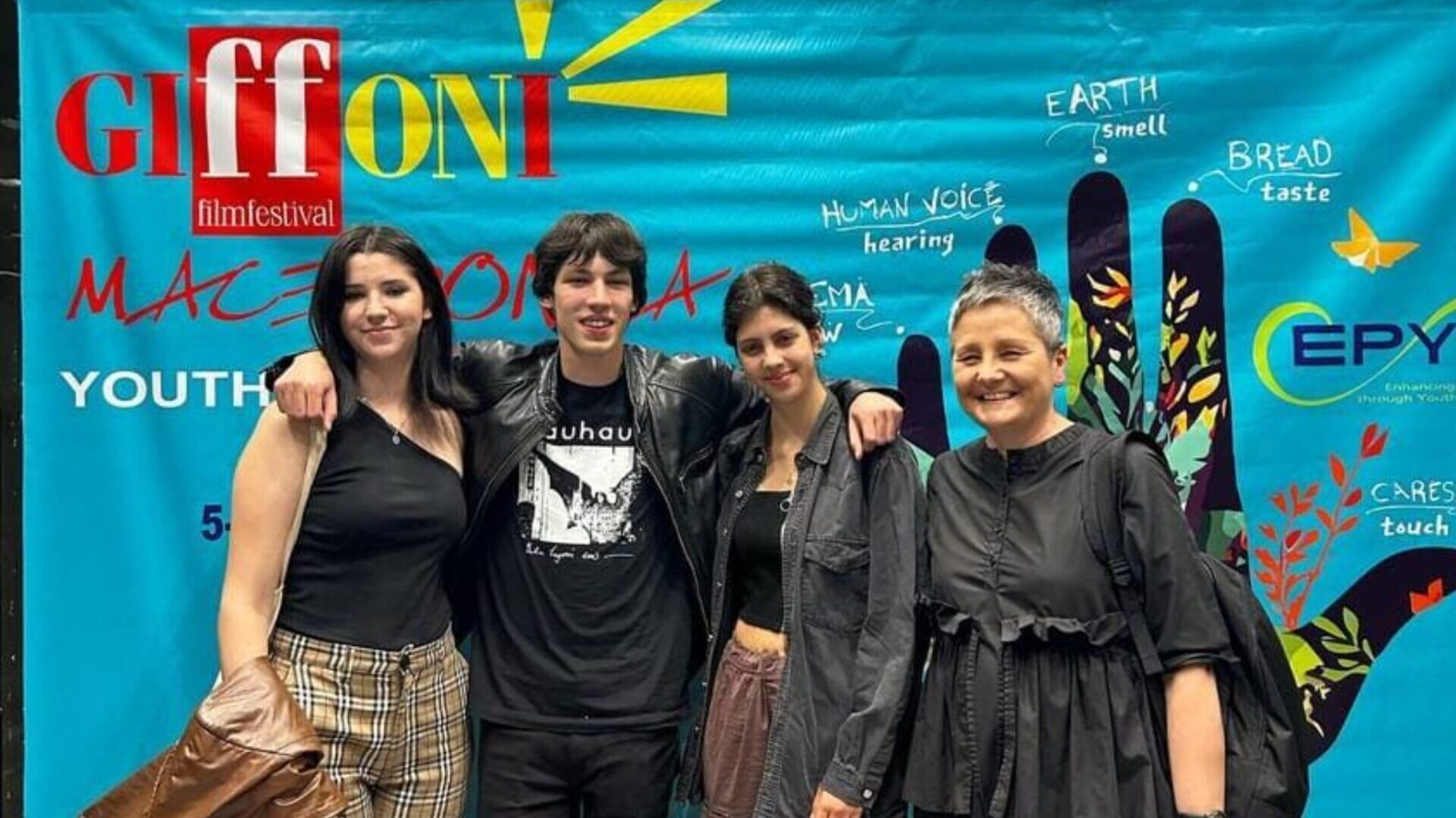 Teen Doc Interaction at the 11th Giffoni Macedonia
The 11th Giffoni Macedonia, a unique film festival for young people, part of the Giffoni Family, which is known worldwide for its authentic concept and programme aimed at young people and children, opened in Skopje on October 5, 2023.
The cooperation between IFC Filmart and Giffoni Macedonia continues this year, so Serbia has its representatives in the youth jury (senior jury) – Srđa Čvorović (FECI & Teen Doc Interaction 2023 participant) high school student from Čačak, Neda Guzjan (FECI & Teen Doc Interaction 2023 participant) high school student from Užice, and Danica Lazović (Interaction Volunteer Team member) a high school student from Čačak.
Giffoni Macedonia with its new EPYC project has become the place where a new initiative of a unique festival network has started, with the aim of promoting and educating young people, as well as improving the conditions for the development, production, and distribution of films made by young authors.
As part of the  EPYC Talk 1 panel discussion "Changing the world. One film at a time", which was held on October 7, 2023, at the Youth Cultural Center in Skopje, festivals from the region that include young people in their programmes presented themselves: Olympia Film Festival and Camera Zizanio (Pyrgos, Greece), Telemach Youth Film Festival (Sarajevo, Bosnia, and Herzegovina) and Interaction (Požega-Čačak-Užice, Serbia). Interaction was presented by Slađana Petrović Varagić, executive director of Interaction.

Also, within the 11th Giffoni Macedonia, one competition selection is called EPYC Short Film Awards and consists of short feature, documentary and animated films. The EPYC Short Film Award aims to encourage professional and amateur filmmakers, especially young authors from the Balkans, to create short films for young audiences that promote peace and reconciliation, regional integration, democracy, European values and human rights.
This program will include the short documentary film "The World I Want" which was made during the Interaction Teen Doc Workshop 2023 (supported by the Western Balkan Fund, the Ministry of Culture of the RS and the City of Čačak ). The author's crew included high school students from the Western Balkans countries: David Angjelovikj, Jovana Jovančić, Lena Tanasković and Matija Štifanić. The film "The World You Want" was recently premiered at the "Short Form" Festival in Gornji Milanovac, and it will also have its regional premiere in Skopje.
The film tells the story about young artists from Čačak who decided to revive the grayness of the city and dilapidated socialist architecture with the dynamic color of murals. The film crew says that "Čačak, a city with over a hundred murals, is a place that in a special way sends the message that art is the right way to create the world we want".